Serving God in the Foreign Missions
Greetings! We Mariannhill Missionaries are a religious congregation of the Catholic Church, dedicated to the foreign missions. As religious, we take the three vows of poverty, chastity and obedience for life, like most religious men and women of the Latin Rite. Entrance into the congregation proceeds through various satges: postulancy (six months to two years), novitiate (one year), temporary vows (three years to six years) and final profession. The vowed life begins after the novitiate.
The vows are our promise to give up everything to follow Jesus Christ more closely, as his disciples and the apostles did (cf. Mt 19:27f), and as Jesus Himself recommended (cf. Mt 8:18-22, 16:24-27, Mk 10:28-30, Lk 18:18-22).
Because we are a missionary congregation our vows have an added dimension, a missionary dimension. Our Constitutions describe this dimension as follows: "Our common ownership [i.e. poverty] has a missionary character. It helps make means available for the task of the Congregation" (Const. No. 218). "Insofar as we succeed in [living chastity], we make the meaning of human community manifest and bear witness to the fact that all men are required to love" (Const. No. 211). "By [obedience] we offer our fellowmen an orientation in regulating their behavior toward one another" (Const. No. 236).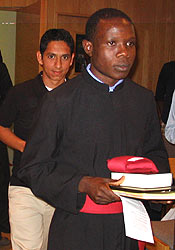 In fact, our whole religious life is permeated by our missionary charism. "Our vocation to the religious life and missionary service constitute one vocation. On the one hand, the apostolic work of our Congregation belongs to the essence of our religious life and, on the other hand, our consecration to God makes us available to mankind. Hence our religious life must be permeated by an apostolic spirit, just as our missionary activity must be animated by the spirit of the [Evangelical] Counsels" (Const. No. 206).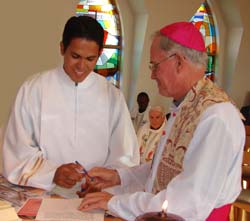 Those who join us must be ready to live and work wherever their superiors send them.
For more information write to:
Vocation Director
Mariannhill Missionaries
23715 Ann Arbor Trail
Dearborn Heights, MI 48127

To inquire by e-mail, Click Here
For those searching out their vocation in life,
Fr. Vergil offers some reflections on vocations.
RELIGIOUS AND MISSIONARY NEWS


Catholic Bishops Synod 2018
Rome, October 2018
Pope Francis has announced the topic for the next Catholic Bishops Synod: "Youth, Faith and Vocational Discernment," which will be held in Rome in October 2018.

According to a Vatican statement, the chosen theme, an "expression of the Church's pastoral concern for the young," is consistent with the findings of the synod on the family and Francis's post-synodal document Amoris Laetitia.

According to the Vatican statement, the topic for the 2018 synod was chosen by the majority of members on the XIV Ordinary Council of the Synod of Bishops, the body charged with drawing up the theme of the next synod. Taken in great part from CRUX magazine, Oct. 6, 2016: content by Ines San Martin, Vatican Correspondent.

(for more news click here)