Serving God in the Foreign Missions
Greetings! We Mariannhill Missionaries are a religious congregation of the Catholic Church, dedicated to the foreign missions. As religious, we take the three vows of poverty, chastity and obedience for life, like most religious men and women of the Latin Rite. Entrance into the congregation proceeds through various satges: postulancy (six months to two years), novitiate (one year), temporary vows (three years to six years) and final profession. The vowed life begins after the novitiate.
The vows are our promise to give up everything to follow Jesus Christ more closely, as his disciples and the apostles did (cf. Mt 19:27f), and as Jesus Himself recommended (cf. Mt 8:18-22, 16:24-27, Mk 10:28-30, Lk 18:18-22).
Because we are a missionary congregation our vows have an added dimension, a missionary dimension. Our Constitutions describe this dimension as follows: "Our common ownership [i.e. poverty] has a missionary character. It helps make means available for the task of the Congregation" (Const. No. 218). "Insofar as we succeed in [living chastity], we make the meaning of human community manifest and bear witness to the fact that all men are required to love" (Const. No. 211). "By [obedience] we offer our fellowmen an orientation in regulating their behavior toward one another" (Const. No. 236).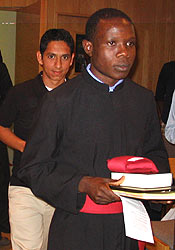 In fact, our whole religious life is permeated by our missionary charism. "Our vocation to the religious life and missionary service constitute one vocation. On the one hand, the apostolic work of our Congregation belongs to the essence of our religious life and, on the other hand, our consecration to God makes us available to mankind. Hence our religious life must be permeated by an apostolic spirit, just as our missionary activity must be animated by the spirit of the [Evangelical] Counsels" (Const. No. 206).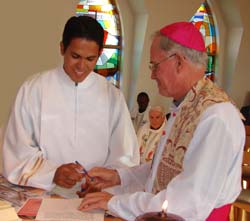 Those who join us must be ready to live and work wherever their superiors send them.
For more information write to:
Vocation Director
Mariannhill Missionaries
23715 Ann Arbor Trail
Dearborn Heights, MI 48127

To inquire by e-mail, Click Here
For those searching out their vocation in life,
Fr. Vergil offers some reflections on vocations.
RELIGIOUS AND MISSIONARY NEWS

"JUBILATE DEO" Jubilee Celebration (Archdiocese of Detroit)
Saturday, June 10, 2017

On June 10 over 100 jubilarians in consecrated life will celebrate their milestone anniversary of profession or ordination. Held at Sacred Heart Major Seminary, the celebration will begin with a 10 a.m. Liturgy celebrated in Sacred Heart chapel by Archbishop Allen H. Vigneron, followed by lunch in the front parlor. Marked by fellowship and a renewal of memories, the brothers, sisters and priests of religious communities enjoy the event with celebrants and community members in attendance.
Any jubilarian (25, 50, 60, 65, 70, 75) who has not yet responded to the jubilee invitation should do so as soon as possible. Enjoy memories from the 2016 jubilee celebration.

Mass for Consecrated Virgins Living in the World Saturday, June 24

On June 24, 2017, three women beautifully donned in bridal wear will process up the main aisle of the Cathedral of the Most Blessed Sacrament in Detroit, MI. The archbishop will examine their intent and then during a special liturgical rite in the presence of their family and friends will consecrate these women with the following words: "Dear brothers and sisters, today the Church consecrates these candidates to a life of virginity…. Their consecration is a call to greater fervor in spreading the Kingdom of God and in giving to the world the spirit of Christ…."

At the altar they will receive a veil for their head, a ring for their finger and a copy of the Divine Office, all symbolic of the life of service to the Church they will lead while living within the world for the sake of the love of Christ. Henceforth they will be members of the centuries-old Order of Virgins acknowledged by the Church within its first five centuries of existence.

This liturgy will take place at the 11 a.m. Mass in the presence of those who have supported them spiritually through their prayerful discernment. All in the archdiocese are invited to share in this first-ever consecration in the Archdiocese of Detroit.

(Click Here for more news)