LEAVES magazine is published by the Mariannhill Fathers of Michigan. It has been part of the Church in Detroit and all of America since 1938. It promotes devotion to God and his saints by presenting -----

* the personal spiritual experiences of its readers

* their petitions and thanksgivings,

* lives of saints and other holy people,

* articles on timely spiritual topics and

* prayers and edifying poems.


LEAVES also features testimonies of readers to the powerful intercession of Father Engelmar Unzeitig, in the hope that he will someday be canonized a saint. Father Engelmar of Mariannhill selflessly gave up his life in February 1945 while ministering to those dying of typhus in the Dachau concentration camp.


Available the Novena to Fr. Engelmar Unzeitig

There is now available a novena booklet of Fr. Engelmar Unzeitig, C.M.M. You may receive a free copy of it by sending a stamped (postage for one ounce, currently 49 cents), self-addressed envelope to us at:
LEAVES
PO Box 87
Dearborn MI 48121-0087


DVD available on the life of Fr. Engelmar Unzeitig

Request a copy of the Fr. Engelmar Unzeitig DVD and make a donation to cover shipping and handling by clicking on the Donate button below. Suggested donation $3.00 per copy.





Now also available the Novena to Abbot Francis Pfanner

Abbot Francis Pfanner founded the Congregation of Missionaries of Mariannhill
100 years ago. Abbot Francis was not only a great missionary, but also a holy man.
The cause for his beatification has begun. You may receive a free copy of his novena by sending a stamped (postage for one ounce, currently 49 cents), self-addressed envelope to us at:
LEAVES
PO Box 87
Dearborn MI 48121-0087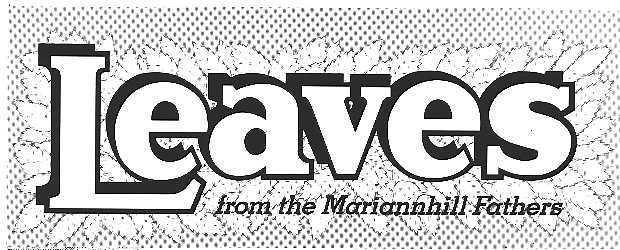 Make a donation to
Leaves Magazine